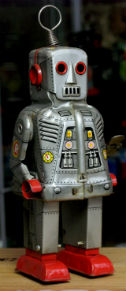 Yoshiya was one of the major toy manufacturers in Japan during the 1950's and 1960's post war era. The company stayed in business until the 1970's. It was also known as Kobe Yoko Ltd. and produced several friction, wind-up, and battery powered mechanical toys during their run. Many of their robot toys are now popular with toy collectors. The company branded and trademarked their mechanical toys with their distinct "KO" mark. They manufactured a variation of the Forbidden Planet's Robby the Robot tin wind-up robots called Action Planet or Space Trooper as well as other wind-up toys such as Sparky Robot (pictured on the left side), Venus Robot, Space Dog, and Moon Explorer. Yoshiya toy robots in mint condition tend to resale at a very good price so they make a good investment if you want to expand your classic robot toy collection.

RARE 50s 60s Yoshiya Ko Japan Action Planet Black Red Tin Wind Robby The Robot
$750.00
Sale Ends Wednesday Oct-24-2018 10:53:02 PDT



KO Yoshiya Atom Robot Set of Replacement Arms 3D Printed and Handpainted
$49.00
Sale Ends Thursday Oct-25-2018 12:12:06 PDT



Atom Robot Yonezawa or Yoshiya 1964 Japanese Tin Toy Excellent Condition
$249.00
Sale Ends Friday Oct-26-2018 13:24:54 PDT



Wing Cone for Super Sonic Space Rocket by Yoshiya
$45.00
Sale Ends Friday Oct-26-2018 14:20:04 PDT



Ear For Yoshiya Mighty Robot
$40.00
Sale Ends Friday Oct-26-2018 14:20:07 PDT



Dome For Flying Saucer By KO Yoshiya
$50.00
Sale Ends Friday Oct-26-2018 14:20:07 PDT



Rubber Hands for Yoshiya Planet Robot
$60.00
Sale Ends Friday Oct-26-2018 14:23:10 PDT



Robot bulldozer Yoshiya remot control battery operated Japan made light Japan
$1,890.00
Sale Ends Saturday Nov-3-2018 4:05:09 PDT



Yoshiya WIND UP MOTOR HIGH WHEEL ROBOT Black Vintage Toy Japan Free shipping
$1,088.00
Sale Ends Tuesday Nov-6-2018 10:49:49 PST



Vintage 1970s Yoshiya KO Japan Action Planet Robot Wind up MIB Robbie the Robot
$299.99
Sale Ends Thursday Nov-8-2018 4:13:36 PST



ALL ORIGINAL YOSHIYA BLUE ROBBY PLANET ROBOT RUBBER HAND BATT OP 1962
$695.00
Sale Ends Thursday Nov-8-2018 17:07:01 PST



Set of 9 Gears for KO Yoshiya Sky Patrol Flying Saucer 3D Printed
$19.00
Sale Ends Friday Nov-9-2018 7:40:32 PST


As you probably already know, many toy companies in Japan produced fantastic classic robot toys during the '50s and '60s. So check out our other pages featuring toys manufactured by other companies such as Horikawa, Nomura, and Marx!
Sparky the Robot in Action!