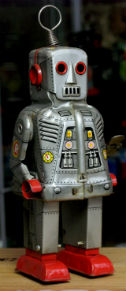 Yoshiya was one of the major toy manufacturers in Japan during the 1950's and 1960's post war era. The company stayed in business until the 1970's. It was also known as Kobe Yoko Ltd. and produced several friction, wind-up, and battery powered mechanical toys during their run. Many of their robot toys are now popular with toy collectors. The company branded and trademarked their mechanical toys with their distinct "KO" mark. They manufactured a variation of the Forbidden Planet's Robby the Robot tin wind-up robots called Action Planet or Space Trooper as well as other wind-up toys such as Sparky Robot (pictured on the left side), Venus Robot, Space Dog, and Moon Explorer. Yoshiya toy robots in mint condition tend to resale at a very good price so they make a good investment if you want to expand your classic robot toy collection.

Original YOSHIYA Blue Robby Planet Robot Battery Operated 1962 Space Toy
$575.00
Sale Ends Thursday Jul-11-2019 18:59:01 PDT



Antenna Yoshiya Orbit Explorer With Airborne Satellite
$30.00
Sale Ends Thursday Jul-11-2019 22:50:01 PDT



VINTAGE HIGH WHEEL ROBOT WORKS NO BOX YOSHIYA JAPAN 1960s
$125.00
Sale Ends Saturday Jul-13-2019 14:35:57 PDT



High Wheel Robot KO Japanese vintage tin toy wind up motor Yoshiya WORKING
$855.00
Sale Ends Monday Jul-15-2019 2:57:26 PDT



1959 Circa Yoshiya Mr CHIEF Robot Japanese Toy
$2,000.00
Sale Ends Monday Jul-15-2019 11:04:05 PDT



1950s JAPAN YOSHIYA V 3 TIN MECHANICAL ROBOT TANK WORKING VERY RARE ROBBY
$199.99 (1 Bid)
Sale Ends Tuesday Jul-16-2019 18:04:31 PDT



Yoshiya WIND UP MOTOR HIGH WHEEL ROBOT Black Vintage Toy Japan Free shipping
$1,088.00
Sale Ends Friday Jul-19-2019 3:24:05 PDT



Blue Venus Robot KO YOSHIYA Japan Near Mint With Box
$349.00
Sale Ends Friday Jul-19-2019 18:20:19 PDT



RARE Vintage Sparky Robot + BOX KO Yoshiya Japan Great Condition Works Sparks
$725.00
Sale Ends Saturday Jul-20-2019 9:40:01 PDT



Reproduction Dome for Yoshiya Mystery Moon Man
$45.00
Sale Ends Sunday Jul-21-2019 1:01:43 PDT



Yoshiya KO Japan Action Planet Robot tin wind up BLUE vintage 1960s sparky toy
$699.00
Sale Ends Sunday Jul-21-2019 2:15:28 PDT



blue Moon Explorer NEW crank wind robot with TrueReplica Yoshiya graphics box
$75.00
Sale Ends Monday Jul-22-2019 15:30:22 PDT


As you probably already know, many toy companies in Japan produced fantastic classic robot toys during the '50s and '60s. So check out our other pages featuring toys manufactured by other companies such as Horikawa, Nomura, and Marx!
Sparky the Robot in Action!