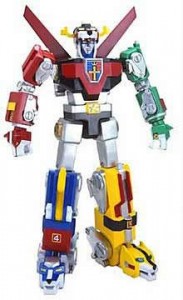 In the original animated series from the Eighties, the number one mission of the "Voltron Force" was to protect the planet Arus from the evil king Zarkon and his force of Ro-beasts. This classic incarnation of with lion Voltron robots was originally based on the 1981 Japanese animated series "Beast King Go Lion" which was later re-edited and dubbed into English in 1984.  The American version of this super robot series instantly became a huge hit in the United States among children, leading to a successful line of toys that are continued to be produced by toy companies today.  Many of the fans who grew up watching this series in the 1980s now collect the action figures based on the robot.
Since the '80s, the timeless popularity of Voltron has lead to several lines of action figures based on the series. Different toy companies such as Matchbox, Toynami and Bandai released their own Voltron toy, which ranged in quality consisting of plastic or die cast metal. Many toy collectors enjoy buying vintage Voltron toy robots from the 1980's-1990's which are for sale currently by collectors. You can collect classic die cast or plastic made in Japan robot toys based on the classic cartoon Voltron: Defender of the Universe which includes both Lion Voltron Force and Vehicle Voltron Force. In Japan, these two Voltrons anime were based on two separate Japanese animation television shows. Lion Voltron was called GoLion and Vehicle Voltron was called Dairugger.
As mentioned earlier, this version of Voltron was on the Japanese series Beast King Go Lion which was heavily reedited to conform to the stricter standards of US television for children's programming. The most notable change in the transition from Go Lion to Voltron was the way death was dealt with on the show. While Go Lion treated the deaths of characters frankly, in Voltron, the subject had to be avoided entirely. There were two main ways this was achieved: either by adding dialogue indicating that characters that were seemingly killed (i.e. in an explosion) actually survived, or by referring to them as robots if scenes showing their destruction could not be avoided. In addition, the opening scenes of Go Lion show the pilots returning to Earth to find it has been devastated by a nuclear war and its entire populace killed; Voltron eliminated this opening entirely and cut directly to the pilots arriving on Arus.  Incidentally, the robot featured in this season was referred to as Voltron III, a reference to the original planned Voltron continuity, which featured three versions of the Voltron robot: however, Voltron II which was made of three humanoid robots was never officially released in the USA.
Although the original Voltron TV series ended after its second season (which was adopted from the Japanese series Kikou Kantai Dairugger XV and which had no relation to the Go Lion series), there were a number of follow up projects, including a TV special (Voltron: Fleet of Doom, which combined scenes from both Go Lion and Dairugger) and a CGI series, Voltron: the Third Dimension (which aired in 1998).
If you love collecting Voltron toys, take a look at other related robot toys that you might be interested in. We have traditional tin robot toys from the 50's, 60's, and 70's and action figures from your favorite animations like Mazinger Z (Tranzor Z), Macross (Robotech), and Transformers.