When revisit some of the classic children toys manufactured around the world by taking a nostalgic trip back in time, the toy robots made by Louis Marx and Company stand out as undoubtedly the most beloved creations among toy collectors. Marx introduced his toy-line in the 1950's and 1960's to capitalize on the space and robot fandom of the era when the United States was engaged in a 'space race' with the Russians. Children loved these toys which included Mr. Mercury, a tin robot with hands that could open and close to grasp small objects, and which could also bend at the waist and walk; Robot and Son, which was released in 1956 and was the first robot toy Marx produced; and Big Loo, a robot with a voice box that could deliver several recorded messages, as well as arms which could fire plastic darts and balls. But the most popular robot toy produced by Marx is probably Rock 'Em, Sock 'Em Robots. 
Classic toys made by Louis Marx and Company are among the most sought-after by toy collectors looking for vintage pieces that hark back to their childhoods. Founded in 1919, Marx toys were a fixture in five and dime stores as well as with retailers such as Montgomery Ward and Sears, which sold their wares through mail-order catalogs. Louie Marx produced a wide range of toys that included dolls and dollhouses, mechanical toys, scale-model toy trains, tinplate buildings and play sets based on popular TV shows and movies such as Gunsmoke, Wagon Train, and Ben Hur.
The toy company's philosophy of giving their customers "more toy for less money" helped make Louis Marx one of the most successful toy makers in America; at the height of the Great Depression of the 1930s, when many companies were floundering, Marx not only recorded growing revenues, it was also able to open three factories. By the 1950s, Marx had become the largest toy manufacturer in the world, and founder Louis Marx was crowned "the Toy King" by no less than Time magazine in 1955. However, in succeeding years the company gradually lost its prominence, and after changing owners a number of times. Then in 1978, Louis Marx sadly closed its doors.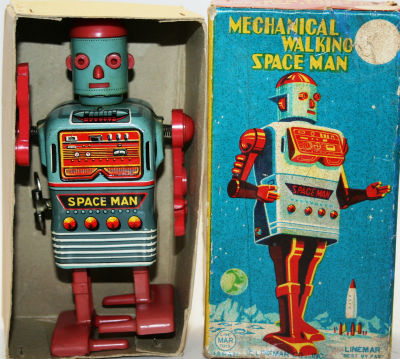 If you enjoyed reading about Marx toys from the past, check out our other vintage robot toy pages about other classic toy companies from around the world!