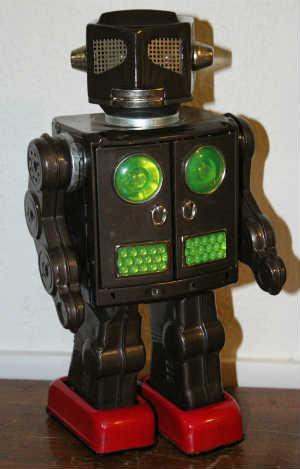 In Japan, Horikawa, recognized by their company logo "SH" on their products, was one of the most prolific manufacturers of battery operated tin toys in the industry. Their collectible tin toys include robots, rocket ships and space stations. Horikawa was so popular as a toymaker during the 1950's through the 1980's that collectors often find unique variations of these collectibles. Many of the designs of these robots are replicated and reproduced today by Metal House which makes battery operated tin robot replicas in limited quantities.
Buy and collect vintage Horikawa tin robot toys for sale. Collect classic made in Japan mechanical battery operated toy robots by Horikawa from the '50s, '60s, and '70s. These nostalgic mechanical toys from your childhood will make a great addition to your toy collection. Use our menu to find an assortment of Japanese super robot collectibles.

HORIKAWA working vintage TIN toy SPACE CAPSULE NASA battery operated OPENS DOORS
$699.00
Sale Ends Wednesday Sep-3-2014 12:53:37 PDT



Vintage 1970s Horikawa Red Robot Tin Toy Japan Space Toy
$74.95
Sale Ends Wednesday Sep-3-2014 16:16:58 PDT



Horikawa Cosimic fighter robot japan vintage batter opperated 70s
$149.00
Sale Ends Thursday Sep-4-2014 12:02:08 PDT



Horikawa Attacking Martian Robot 1960s
$200.00
Sale Ends Thursday Sep-4-2014 13:19:55 PDT



EARLY ATTACKING MARTIAN ROBOT HORIKAWA JAPAN TIN TOY 1960s NON WORKING
$225.00
Sale Ends Thursday Sep-4-2014 17:30:09 PDT



1969 HORIKAWA VIDEO ROBOT JAPANESE BATTERY OPERATED SPACE TOY NO RESERVE
$74.99
Sale Ends Friday Sep-5-2014 11:23:22 PDT



Toy Robot Horikawa Japan Tinplate Space Explorer Silver
$166.50
Sale Ends Friday Sep-5-2014 13:34:24 PDT



SPACE FIGHTER ROBOT HORIKAWA MADE IN JAPAN 1960S
$110.00
Sale Ends Friday Sep-5-2014 21:24:32 PDT



Vintage Horikawa Japan TinPlastic Rotate O Matic Super Robot Original Box MIB
$189.99
Sale Ends Saturday Sep-6-2014 18:55:45 PDT



Japanese Collectible Toy Robot Horikawa Japan Battery Operated Swivel O Matic
$90.00 (1 Bid)
Sale Ends Saturday Sep-6-2014 20:08:22 PDT



Tin Toy Robot Windup NEW Horikawa Mechanic Robot
$9.95
Sale Ends Sunday Sep-7-2014 17:37:21 PDT



HORIKAWA JAPAN BATTERY OPERATED TIN TOY ATTACKING MARTIAN ROBOT W BOX WORKS
$350.00
Sale Ends Monday Sep-8-2014 17:19:48 PDT


We also listed toys from other popular companies like Marx, Nomura, and Yoshiya.  Please take a look at our menu to find these other classic robot toys.