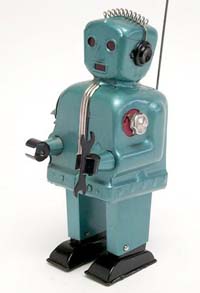 The company Nomura, similar to many other manufacturers in Japan, began in the tin toy industry in the late 1940's after World War II to help reconstruct the economy of their nation. Nomura is famous for their tin robot toys such as Tetsujin 28 aka Iron Man and Astro Boy. In addition, coming off the success of the movie Forbidden Planet, Robby the Robot became a popular toy robot. These productions of battery operated walking tin robots help establish Nomura as hugely popular for its toys during the 1950s and and 1960s. In the early 1970s, the company adopted diecast metal for the production of their toys after Popy had success with their line of die cast toys. During this time, the company acquired the license to produce the Yamato toyline based on the popular animation series in Japan, Farewell to Yamato, which is related to the animation series called Star Blazers in the United States. Today, many toy collectors find nostalgic Nomura's toyline as an attractive investment for their collection.

Nomura Diecast Yamato 1 1300 Re issue Chogokin Popy Bullmark Takatoku Godaikin
$68.80
Sale Ends Friday Sep-4-2015 8:01:52 PDT



1960 Vintage Japanese Nomura Batman Tin Litho Toy Free Shipping Made in Japan
$3,500.00
Sale Ends Friday Sep-4-2015 20:22:00 PDT



Vintage Zoomer Robot By Nomura 1950s Toy
$90.00 (4 Bids)
Sale Ends Saturday Sep-5-2015 17:00:16 PDT



Rocket Pro Gigantor Tetsujin28 Toy Battery Operated X Plus Nomura Yonez
$159.00
Sale Ends Monday Sep-7-2015 18:14:09 PDT



Nomura TN RoboTank Z Space Robot Japan with original box
$349.00
Sale Ends Tuesday Sep-8-2015 3:32:21 PDT



Rare Nomura Piston Action Robot Silver Edition circa 1957 Robby the Robot
$150.00
Sale Ends Tuesday Sep-8-2015 5:00:51 PDT



ACCURATE REPLICA BOX for NOMURA MOON PATROL SPACE DIVISION NO3 VEHICLE MOON CAR
$195.00
Sale Ends Tuesday Sep-8-2015 11:42:18 PDT



Rare VW Volkswagem Space Patrol Car Robot TN Nomura Toys Made Japan 1960s Box
$9,999.99
Sale Ends Tuesday Sep-8-2015 16:51:32 PDT



Vintage Nomura HTF Orange Tractor Japan Battery 1200 Space Tin No2 Toy WORKS
$169.99
Sale Ends Wednesday Sep-9-2015 19:05:05 PDT



Nomura Piston Action Robot aka Pug Robby Rare Golden Variation Straight ears
$207.50 (3 Bids)
Sale Ends Thursday Sep-10-2015 6:22:16 PDT



Nomura Space Man Robot Japan
$208.50 (7 Bids)
Sale Ends Thursday Sep-10-2015 7:35:58 PDT



1950 NOMURA MOON SPACE CAR MOON TIN TOY PATROL EXTREMELY RARE
$850.00
Sale Ends Friday Sep-11-2015 1:29:04 PDT



1960s RARE VINTAGE NOMURA MINI ROBO TANK TR 2 ROBOT MADE IN JAPAN
$589.95
Sale Ends Friday Sep-11-2015 8:55:39 PDT



1968 Nomura Toy Keroyon Ford Car First Edition Japan Mokubaza tin tsukuda
$399.00
Sale Ends Saturday Sep-12-2015 8:18:06 PDT


Check out some videos on some classic Nomura tin toys from the past!
Vintage Nomura Ishi Zoomer Wind-up Robot Toy with Sparks
Vintage Nomura Blue Spaceman Astronaut Robot with remote control.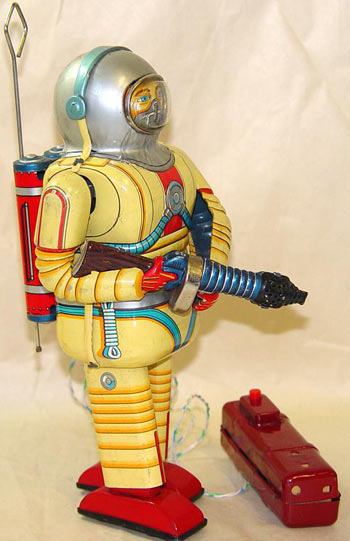 Yellow version of the Remote Controlled Spaceman toy robot.