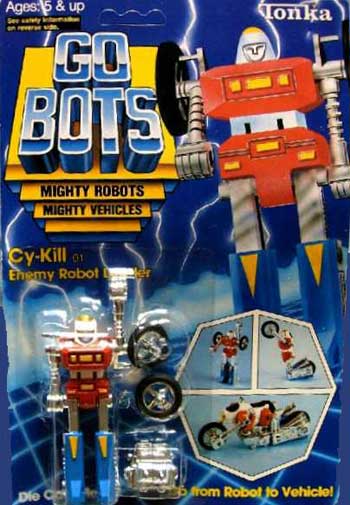 If you grew up during the early '80s, you will probably remember this line of robot toys and its cartoon show. The GoBots were somewhat similar to Transformers in which the robot action figures could be transformed into different vehicles like cars, trucks, planes and helicopters. Go Bots initially started as Machine Robo, a puzzle toy line developed by Popy Pleasure in 1982. Katsushi Murakami designed the toys as small vehicles, which could be reconfigured into robots. The small figures sold well for the price of ¥600. Eventually, the small action figures from Machine Robo series were informally called as the "600 Series".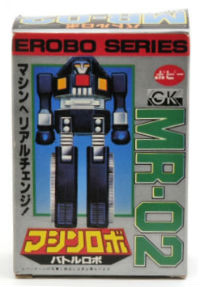 Since the first release of the toy line was a success, Popy released larger robot figures with the ScaleRobo DX figures, which were now based on real life vehicles. In 1983, Popy was reabsorbed by Bandai which continued to expand the line and added a few improvements to the growing toy robot industry. Bandai eventually exported the line to Australia, America and Europe towards the end of 1983. Machine Robo was renamed as Machine Men in America and Australia and as Robo Machine in Europe.
Continue reading the rest of this article, or take a moment to shop for classic GoBot robot action toys for sale!

Gobots SPOILER machine robo MR 21 go bots lamborghini countach 80s robot toy
$19.99
Sale Ends Sunday Nov-29-2015 10:10:25 PST



Wendys Gobot Patches
$7.00
Sale Ends Sunday Nov-29-2015 10:50:08 PST



RARE MIGHTY GOBOTS GO BOTS RoGun Water Pistol Gun Figure ARCO
$16.99
Sale Ends Sunday Nov-29-2015 11:08:59 PST



SPECIAL go bots GOBOTS SUPER GOBOTS PARTS + WEAPONS LOT 2
$25.00
Sale Ends Sunday Nov-29-2015 11:12:33 PST



Gobots Vamp And Spay C 1980s
$20.99
Sale Ends Sunday Nov-29-2015 11:23:13 PST



Bandai Gobots Tonka 1983 MR 10 PUMPER Action figure Transformer Robot Japan
$4.17
Sale Ends Sunday Nov-29-2015 11:57:43 PST



1983 BANDAI ROBO MACHINE GOBOT RM 05 TRAIN AFA 75 Y EUROPEAN RELEASE
$94.85 (20 Bids)
Sale Ends Sunday Nov-29-2015 12:04:41 PST



1980S GOBOTS TRANSFORMERS ROBOT CAP GUN RIFLE LOOK
$29.99
Sale Ends Sunday Nov-29-2015 12:06:10 PST



1992 Bandai Machine Robo CG Cement Truck Robot Gobots
$18.00
Sale Ends Sunday Nov-29-2015 12:34:34 PST



Lot of 2 GoBot transformers Jeep and racecar Geeper Creeper Renegade Slicks
$25.00
Sale Ends Sunday Nov-29-2015 12:36:56 PST



Lot of 2 transformers super Gobot Warpath Bandai 745 Attack Tank Destroyer
$24.99
Sale Ends Sunday Nov-29-2015 12:38:29 PST



1984 VINTAGE BANDAI GOBOT BAD BOY MR 47 MACAU A 10 THUNDERBOLT WARTHOG
$19.99
Sale Ends Sunday Nov-29-2015 12:38:30 PST


In order to boost sales, Bandai created a back-story for their robot action figures. The robots were refugees from the destroyed planet of Romulos. They are defending the planet Earth from the monster robots, Devil Invaders, from Casmozone. However, there was no cartoon series produced only a few animated commercials and manga strips. In America, Go Bots is suffering heavy losses from their competitor, Takara which licensed Hasbro to sell their robot action figure line, the Transformers. Hasbro also tied up with Marvel in order to create an animated series about the robot action figures. This boosted the sales of their action figures, which lead to the slow decline of Go Bots action figures in the American market.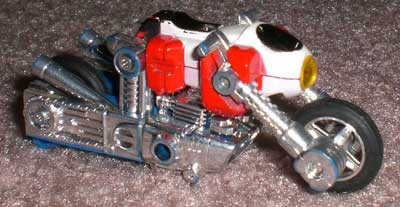 However, Bandai failed to make an impression in the American market. They eventually chose to license the figures to Tonka. Tonka then renamed the toy series to Go Bots. In order to meet the competition, Tonka paired up with Hanna-Barbera to create an animated series. However, the cartoon show produced for the American television is different from Bandai's original storyline for the action figures. The Gobots were divided into two factions the Guardians and the Renegades. The plot was pretty generic, with the Guardian defending the Earth against the evil Renegades. Among the memorable characters are Leader-1, Turbo, Scooter, and Small Foot from the Guardians and Cy-Kill, Crasher, Cop-Tur, and Fitor from the Renegades. Strangely though, not all Gobots action figures were featured in the show. Some only got minor roles and an occasional guest appearance. They only appear whenever their unique abilities are required, but they are never featured in the main storyline.
A series of Gobots magazine was also published between the winters of 1986 to 1987 by Telepictures Publishing. It was a quarterly magazine, rather than a comic series, featuring sci-fi articles, a five-page comic strip and an "Ask Leader-1" section. Fans who are nostalgic about this 80s toy line and animated series are collecting rare action figures. The beautifully painted box art is even a bonus treat for collectors.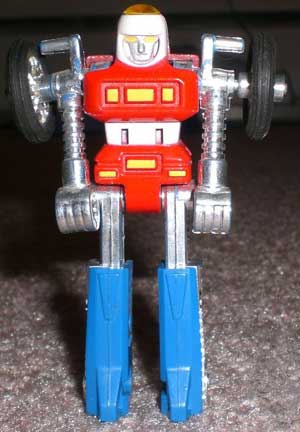 Classic Gobot action figure toy commercial from the '80s.