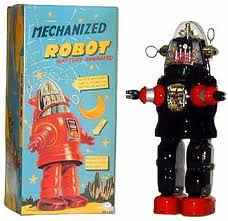 Classic science fiction movie fans will fondly remember Robby the Robot as the iconic mechanical character from the 1956 sci-fi movie, Forbidden Planet, starring Leslie Nielsen. Robby was originally designed by a Japanese-American engineer Robert Kinoshita and the robot was built for about $125,000 inside a MGM prop department in 1955 for his first movie. The popularity of the film and its high tech robot inspired a series of toy lines during the 1950's and 1960's. The original Robby the Robot toys were produced by Japanese toy company Nomura. The battery powered mechanical toy walked on moving legs with parts moving and lighting up inside the helmet. The robot actually walked in a circles, not in a straight line.  The pistons inside the dome are moved by rubber bands. They operated on either C or D cell batteries. If you are feeling nostalgic, the holiday season is a great time to buy one of these robots for a robot collector. If you already have your own vintage toy collection, you will want to buy your very own mint Robby the Robot toy available for sale by these online dealers below.

ROBBY The ROBOT WIND UP Forbidden Planet MASUDAYA MGM IN BOX 425 tall
$62.99
Sale Ends Monday Jan-14-2019 17:35:40 PST



Osaka Tin Toy Mechanized Robby The Robot Chrome with Box battery operated
$525.00
Sale Ends Tuesday Jan-15-2019 7:24:50 PST



Robby the Robot Windup Tin Toy Black St John Toys Edition SALE
$15.00
Sale Ends Tuesday Jan-15-2019 11:31:38 PST



Robby the Robot SDCC 2013 Exclusive Metallic Purple Diecast Figure 1 of 200
$299.00
Sale Ends Tuesday Jan-15-2019 13:55:03 PST



MASUDAYA Collection Wind up Tin Toy Set of 5 Made in Japan Robby The Robot
$199.98
Sale Ends Wednesday Jan-16-2019 4:38:52 PST



Twilight Zone Robby the Robot Tin wind up special edition action figure
$125.00
Sale Ends Wednesday Jan-16-2019 9:14:36 PST



Vintage 1980s Forbidden Planet Robby the Robot Talking Figure Masudaya1 5 NIB
$699.50
Sale Ends Wednesday Jan-16-2019 19:20:03 PST



Forbidden Planet Robby The Robot Funko Wacky Wobbler Bobble Head Figure
$19.00
Sale Ends Wednesday Jan-16-2019 20:33:55 PST



SDCC 2017 VINIMATE ROBBY THE ROBOT FORBIDDEN PLANET WITH BLASTER FIGURE NEW
$25.98
Sale Ends Thursday Jan-17-2019 13:00:31 PST



VINTAGE MASUDAYA FORBIDDEN PLANET ROBBY THE ROBOT 1 5 SCALE 1983
$650.00
Sale Ends Thursday Jan-17-2019 13:01:30 PST



ROBBY THE ROBOT THE FORBIDDEN PLANET X PLUS B W DIECAST ACTION FIGURE NEW
$175.00
Sale Ends Friday Jan-18-2019 12:00:07 PST



Rare 1983 Robby The Robot 35 Wind Up Action Figure Forbidden Planet Unused NIB
$39.99
Sale Ends Friday Jan-18-2019 16:01:51 PST


The Robby the Robot toys were later replicated and reproduced in limited edition by Masudaya and Osaka Toy Institute. If you didn't find the toys you are looking for, try our links to search for other manufacturers of robot toys listed below.



Robby the Robot's first role in a major motion picture: Forbidden Planet 1956